METAL SURFACE FINISHING AND RESTORATION
Advanced Tec-Neeks Super-Finishing (ATSF) offers a wide range of finishing processes so you can choose the best finishing procedure for your projects. Our processes have proven applications in numerous industries, from automotive, motorsports and motorcycles to powersports, off-road and marine. Depending on the surface finishing process, benefits range from improved performance, increased durability and efficiency, lower operating temperatures and quieter operation to safely cleaning, restoring and protecting your treasured parts and components.
ATSF metal finishers offer a diversity of processes for an array of metals, including carbon steels, aluminum, brass and bronze. For a detailed description of how our finishing processes can bring out the best in your beautiful parts, refer to "Finishing Processes" located on the navigation bar at top of page or click here.
Whether you are looking for increased performance, improved durability, or safely restoring your cherished components to their original condition, contact Advanced Tec-Neeks Super-Finishing today for a free quote and let us help you choose the best finishing process for your prized project.
Vapor Blasting
Vapor blasting is the optimum surface-finishing process for safe and effective cleaning, restoration, aesthetic enhancement, and protection of engine, drivetrain and chassis components or any component where surface restoration is desired. Also known as wet blasting, vapor honing, or liquid honing, vapor blasting uses a slurry of water, abrasives and detergents pressurized by compressed air that gently degrease and clean while producing an attractive soft "satin-like" finish that looks terrific. The gentle process produces a softer and more luxurious finish than either soda or bead blasting. It also avoids media impregnation into soft metals, preserves important identification marks and traits, and can help detect imperfections and damaged areas. Additionally, vapor blasting is commonly used for prepping metal surfaces for specialty coatings, plating or machining operations.
---
Isotropic Super-Finishing
Isotropic Super-Finishing is the process of creating a uniform, non-directional (isotropic) finish on a metal surface. The process produces a uniform mirror-like finish on hardened steel parts that reduces friction, contact fatigue and stress risers. The mirror-like finish promotes increased lubrication retention and heat transfer, resulting in increased durability; reduced vibration, temperatures and noise; and improved power production. Isotropic Super-Finishing technology is especially beneficial on parts operating in high-contact loading metal-to-metal environments, such as crankshafts, camshafts, valvetrain components, and transmission and drivetrain gears.
Isotropic Super-Finishing, which is often called CASF (Chemically Accelerated Surface Finishing), is performed by placing hardened steel parts in a vibratory bowl that contains ceramic media of various sizes and shapes along with a chemical additive. A two-step process then takes place. During the first step, called refinement, the bowl's vibratory action is used to generate a chemical interaction between the surface of the part and the ceramic media. The second step is the burnishing process, which produces a superior chrome-like finish.
Isotropic Super-Finishing is widely used in motorsports, powersports and marine racing, and is also applied extensively in the general automotive and firearms industries.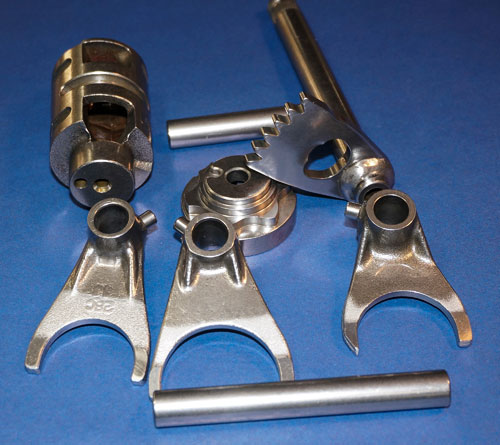 ---
Ultrasonic Cleaning
Ultrasonic cleaning has become the standard for final cleaning engine and transmission parts in the automotive, powersports, marine and aircraft industries. Ultrasonic cleaners use high-frequency sound pulses to agitate cleaning detergents that gently clean and remove dirt and contaminants without requiring any harsh scrubbing, abrasion or high-pressure sprays.
Ultrasonic cleaners are versatile in that they can remove a wide variety of contaminants, including grease, oil, dirt, carbon deposits, oxidation, mold, bacteria and more, all the way down to down to a microscopic particle size.
And ultrasonic cleaning is excellent at cleaning intricate and hard-to-reach areas such as hidden passageways, oil galleys, blind holes, cracks, crevices and small apertures because the environmentally friendly citrus-water-based detergent and high-frequency ultrasonic waves penetrate all surfaces.
Commonly used on steel, aluminum, brass, bronze and precious metals, ultrasonic cleaners thoroughly and effectively clean common engine parts such as carburetors, manifolds, cylinder heads, cylinders, transmission and drivetrain parts, and more. The ultrasonic cleaning process is also perfect for inboard and outboard marine motors with aluminum parts where gentle cleaning reduces the risk of future corrosion.
---
Additional Services
In certain situations, we may need to send out parts and components for prepping services, such as paint stripping, that we do not perform in-house. As a convenience, following are several outsourced services we offer to our customers that complement our in-house work.
---
Paint Stripping
To provide our customers with a luxurious vapor blast finish, powder coating, epoxy paints and factory paints must be removed before we perform any metal finishing processes. We offer quality chemical removal of powder coating and paint as an outsourced service. Turnaround time is usually 2-3 days. If you have a need for coating removal services, give us a call so we can discuss your needs and provide you with a quote.
---
Plating Services
Vintage vehicles often come with either cadmium or black zinc plated fasteners, but the difficult-to-replace and costly fasteners usually end up being chipped or corroded. Renew your fasteners to look as good as the rest of your project: have them re-plated.
Cadmium Plating
Cadmium has an inherent lubricity characteristic and is commonly used in the aerospace industry and in applications that require disassembling and reassembling. Cadmium plating is available in clear color. Before plating, we clean and prep your parts for the electroplater.
Black Zinc Plating
Zinc plating offers excellent corrosion resistance and is often used to slow the onset of rusting on steal/iron. It is typically used on fasteners and stampings. Zinc plating is available in either black or clear color. Before plating, we clean and prep every part for the electroplater.
---
Cryogenic Treatment
Cryogenics has created interest in the high-performance and racing industries due to the potential performance gains it offers. Essentially, cryogenics is a metal treatment that moves the grain structure in a metal alloy, making the alloy more durable. By freezing a component to below -300° F, the cooling process is said to rearrange the crystals in the metal, thereby realigning the atomic structure and relieving stress. Benefits include increased dimensional stability, reduced stresses in the material, and improved wear resistance.
Engine, transmission and suspension parts such as crankshafts, rods, pistons, gears and brake rotors made from heat-treated steels, cast irons, and other alloys are prime candidates for the cryogenic process. It is important that all machining is completed and the component is mocked up and checked before having the cryogenic treatment performed. This service is charged by pound weight, and pricing varies. Additionally, after completing the cryogenic metal treatment, parts are normally isotropic super-finished.